Polyga Inc. Announces Next Generation Popular Compact Series of Affordable Industrial 3D Scanners: The Compact S1 Pro & S1 Pro Wide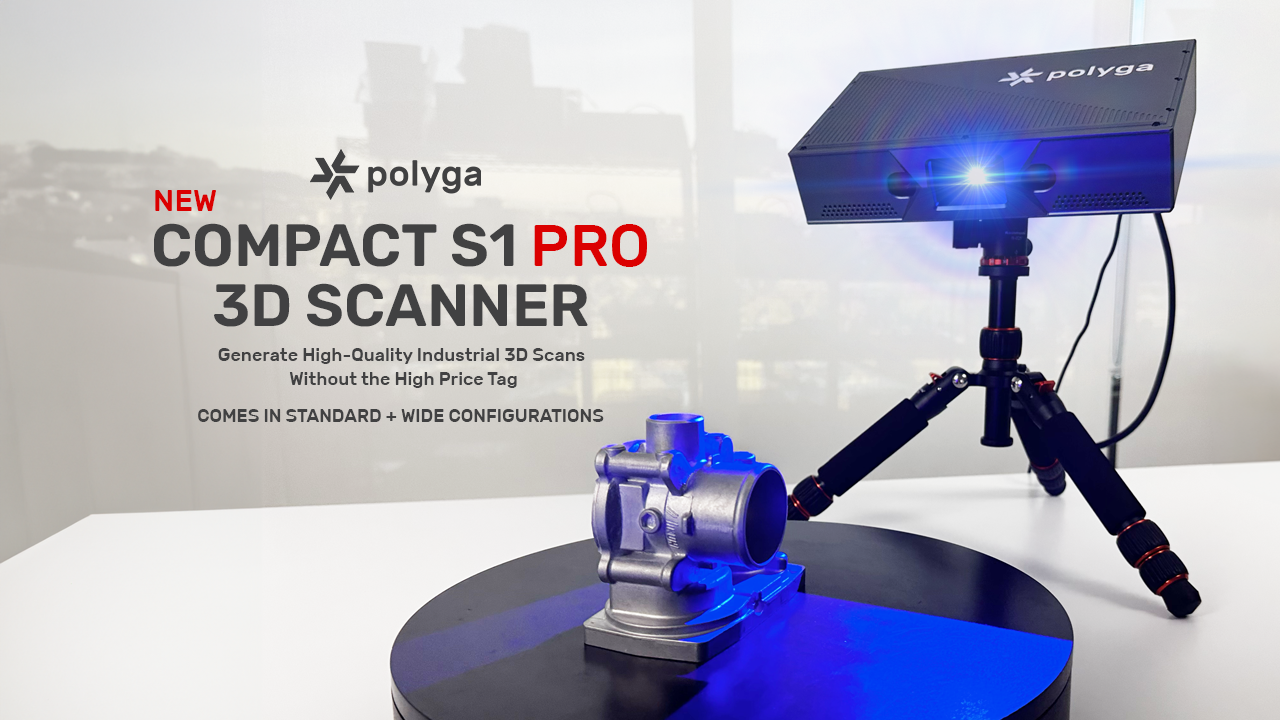 Vancouver, British Columbia, Nov 7, 2023 – Canadian 3D Scanning technology manufacturer, Polyga Inc., has upgraded their most popular and affordable industrial desktop 3D scanner. The new Compact S1 Pro is designed for reverse engineering and inspection. It comes in two configurations: Standard and Wide.
The Compact S1 Pro and S1 Pro Wide includes all needed 3D scanning features without breaking the bank. These desktop scanners enable various industries including aerospace, manufacturing, architecture, and medicine, to capture high-resolution 3D scans for a variety of applications.
What's New in the Compact S1 Pro
Standard & Wide Configurations
All-in-One Color: (Every System Enables Color Capture)
5MP Dual Cameras & Blue Light Projector: (Improved Resolution & Accuracy)
Automation-Ready with External Triggers
Pre-Calibrated NIST certified Accuracy: (Standard 30 Microns / Wide 35 Microns)
Plug & Play USB connection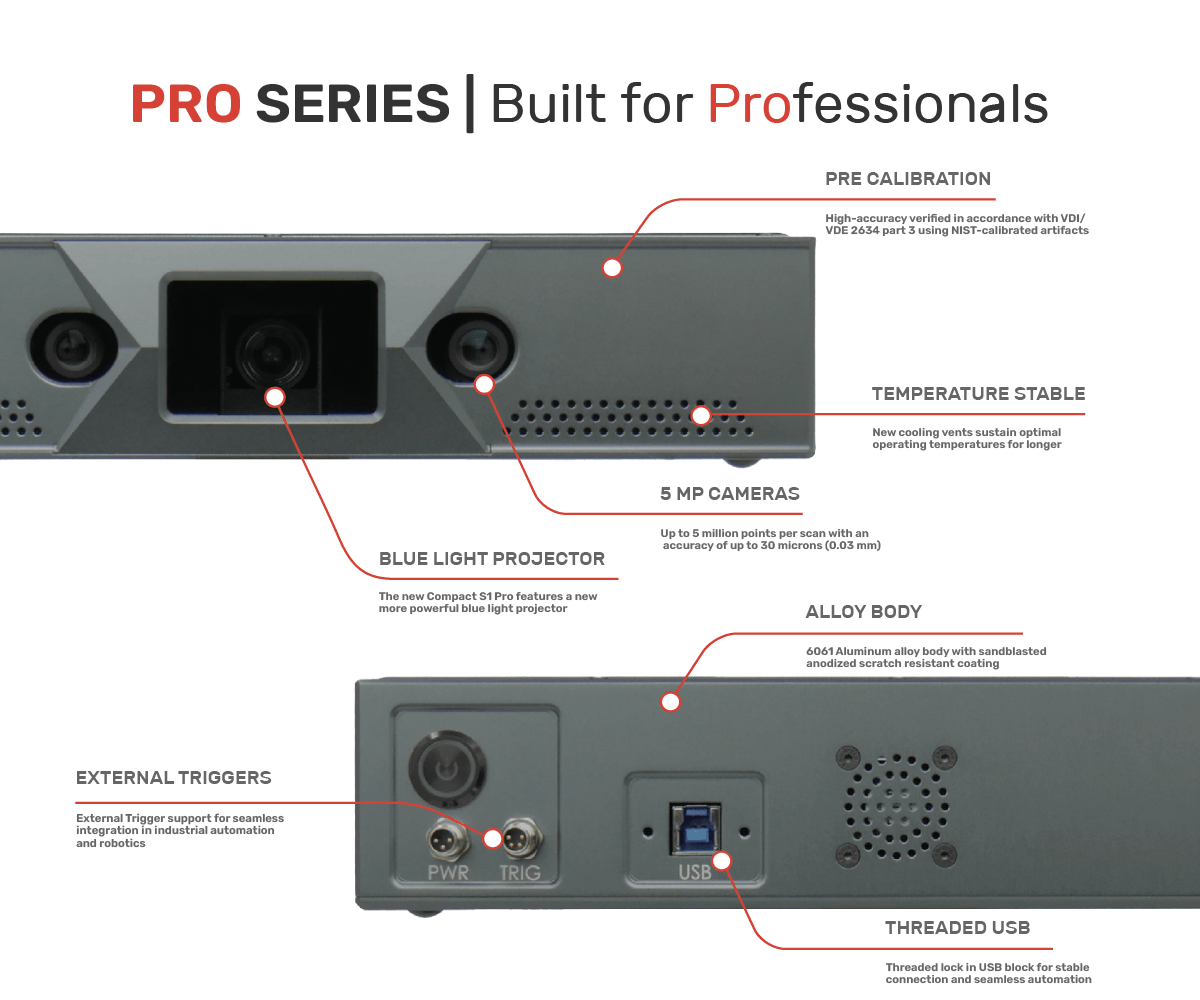 Dual 5.0 Megapixel Cameras Improve Resolution & Accuracy
The Compact S1 Pro Series improves upon the previous version on every metric. Higher-resolution Cameras and a more powerful Blue Light Projector provide 2.5x the resolution of the previous generation. Pre calibrated accuracy of up to 30 microns for the new S1 Pro Standard and up to 35 microns for the new S1 Pro Wide improves upon the previous generation by 5 microns each.
The Compact S1 Pro & S1 Pro Wide feature a dual 5MP camera system that captures highly detailed image data by combining high-quality hardware and software. The S1 Pro Series includes Polyga's FlexScan3D Image-Processing Platform and dual 5MP sensors, ensuring accurate results verified by NIST-calibrated artifacts and VDI/VDE 2634 part 3 standards.
Specifications
Model
Compact S1 Pro
Compact S1 Pro Wide
Product dimensions

W = 270mm

H = 58mm

L = 160mm

W = 270mm

H = 58mm

L = 160mm

Accuracy
30 microns
35 microns
Scan speed
250ms (0.25 seconds)
250ms (0.25 seconds)
3D Resolution
Up to 5 million
Up to 5 million
Texture resolution
5.0 megapixel color
5.0 megapixel color
Standoff
165mm – 235mm
300mm – 500mm
Field of view
136mm dia – 158mm dia
199mm dia – 304mm dia

Linear Field of view

(H x W)

82mm × 109mm at closest range

114mm × 110mm at furthest range

136mm × 146mm at closest range

212mm × 218mm at furthest range

Point to point distance
0.048mm
0.093mm
Camera Resolution
2 x 5.0 megapixel
2 x 5.0 megapixel
Power source
12V ⎓ 10A AC/DC Power
12V ⎓ 10A AC/DC Power
Output formats
3D3, ASC, OBJ, PLY, STL, FBX
3D3, ASC, OBJ, PLY, STL, FBX
Advanced Blue Light Projector
Blue light LED provides clearer scans with reduced noise and interference. Moving beyond traditional white light, the Compact Pro now features a brighter, high-resolution blue light projector. This not only enhances clarity but also minimizes noise and interference, ensuring clean and precise scans every time.
Durable Aluminum Alloy Body
Designed for durability and ease of use, the Compact S1 Pro is constructed and strengthened using 6061 aerospace-grade gray aluminum alloy and has a sandblasted, anodized, scratch-resistant silver finish. The scanner's body includes a locking USB connection for maintaining connections on moving platforms like robot arms.
The S1 Pro also comes pre-calibrated, enabling easy plugin and scan functionality. The S1 Pro is one of the most reliable and long-lasting industrial desktop 3D scanners in its class.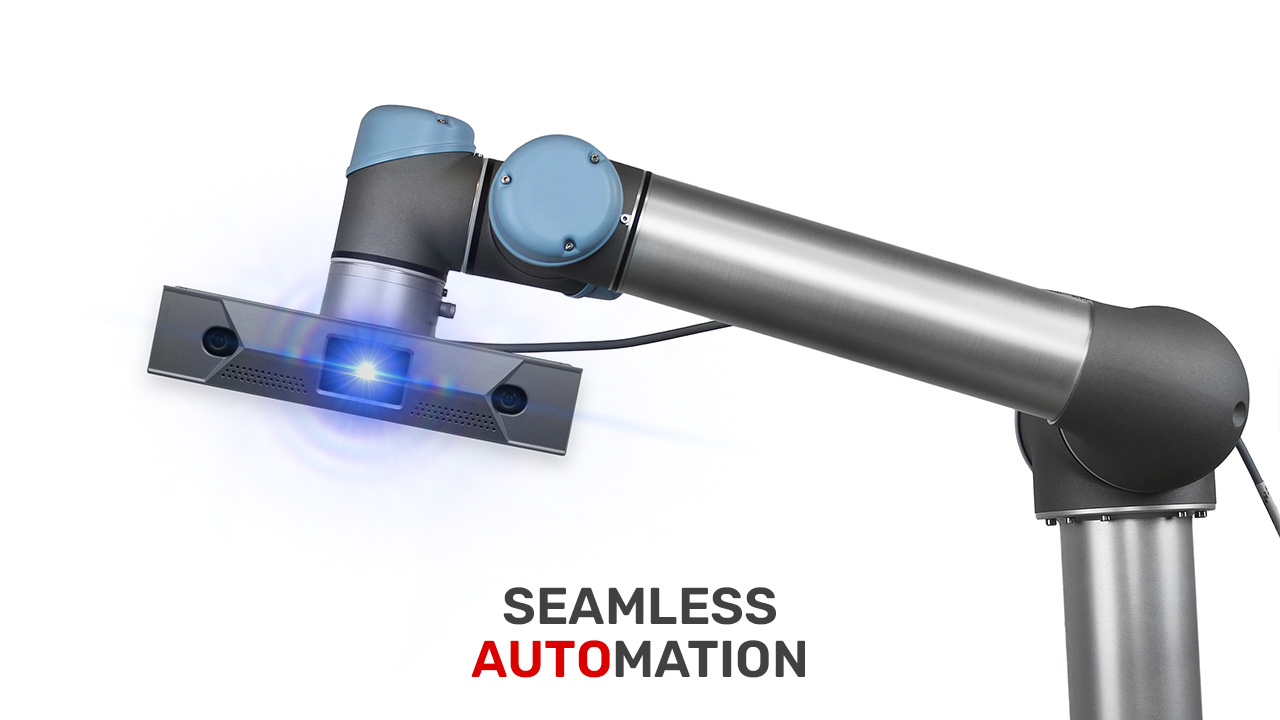 Seamless Automation
The Compact S1 Pro Series is automation-ready, easily integrating with industrial automation and robotics with external trigger support. The scanners can also be completely controlled using a variety of programming languages thanks to Polyga's SB SDK. The SDK provides a versatile platform to fully utilize Polyga's technology, delivering customized scanning experiences and optimized results.
Polyga's Compact S1 Pro represents a significant advancement in industrial 3D scanning. After years of testing and refinement, it sets a new industry standard.
"The S1 Pro is a testament to our commitment to innovation and excellence," expressed Thomas Tong, Founder and CEO of Polyga Inc.
Available Now
The S1 Pro is available for purchase, featuring pioneering technology, intuitive software, and a robust design aimed at revolutionizing reverse engineering workflows. For more information, visit the Compact S1 Pro website.
For Media Inquiries, Please Contact:
Polyga | Contact
+1 604-293-1767
contact@polyga.com