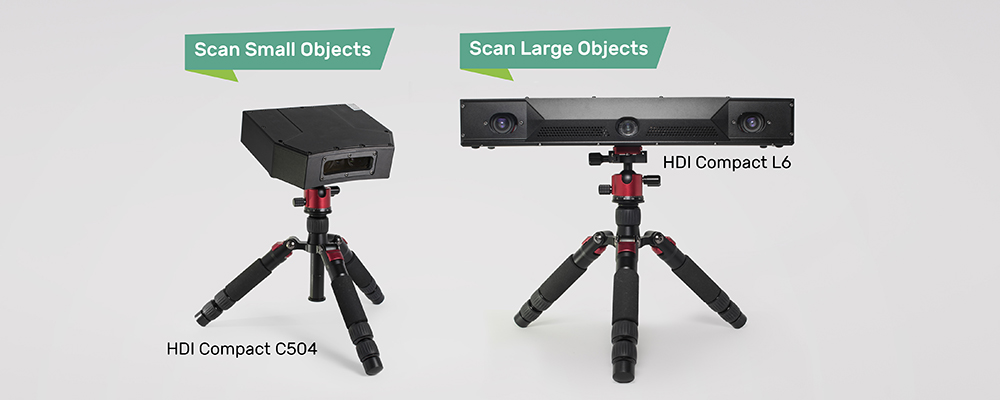 HDI L6 For Digitizing Large Objects

Today, we're happy to officially announce the addition of two models to expand the HDI Compact 3D scanner lineup at both extremes: the L6 and the C504.

We've added two new models with bigger and smaller field of view (scanning window).

HDI Compact L6 For Digitizing Large Objects

The L6 model produces the largest field of view out of all the 3D scanners in the HDI Compact series measuring approximately half a meter. The 3D scanner scans big parts with an accuracy of up to 50 microns (0.0020").

FlexScan3D is all you need to acquire and post-process the scan data into a digital 3D model. It is the 3D scanning software that comes with the HDI 3D scanners.

Digital 3D model of a handheld vacuum cleaner created by the L6.

The HDI Compact L6 can create 3D digital models for even larger objects (car, people, etc.) by taking scans of sections of an object and merging them together.

HDI Compact C504 Macro 3D Scanner For Scanning Extremely Small Objects

At the opposite end of the spectrum, the C504 model is the ultimate macro 3D scanner. Scanning small objects with high resolution detail and accuracy is no easy feat, especially if you need to pick up the tiniest of details on an extremely small part.

The system can scan an object size of 1 to 1.5 cm with a remarkable accuracy and detail at just 6 microns (0.006 mm)!

Digital 3D model of a small metal bit measuring 1 cm. As you can see, the C504 can get the details of the small indentations.

Digital 3D model of a small shell measuring approximately 1.5 cm. The C504 can even get the bumps and crevices of the surface.

Learn more about the new HDI Compact 3D scanner by viewing our product page, press release, or the brochure below.